Need a Chino Gym? We've Got You Covered
The Health Club Directory is a useful and thorough directory site of gyms, fitness classes, personal trainers and more. It includes the best in each classification from our impartial editorial team.
Photo by Karolina Grabowska from Pexels
If you are serious about your health and want to change your body, consider signing up with among the Chino gym or gym on this website.
Explore our Chino directory site to discover health clubs, individual trainers, massage therapists, nutritional experts, and lots of other related organizations that will assist you become healthier.
Self Made Training Facility – Chino Hills
Trainers
+19517332766
2549 Chino Hills Pkwy, Ste A, Chino Hills, CA 91709
Fitness 19
Gyms, Trainers
+19095483333
12873 A Mountain Ave, Chino, CA 91710
Crunch Fitness – Chino
Gyms, Trainers
+19092873808
5420-E Philadelphia St, Chino, CA 91710
Orangetheory Fitness Chino Hills
Gyms, Trainers, Cardio Classes
+19099061771
4525 Chino Hills Pkwy, Shop 7, Chino Hills, CA 91709
LA Fitness
Gyms, Trainers, Yoga
+19093933101
14485 Pipeline Ave, Chino, CA 91710
24 Hour Fitness – Chino Hills Marketplace
Gyms, Trainers
+19093930724
4200 Chino Hills Pkwy, Ste 780, Chino Hills, CA 91709
24 Hour Fitness – Chino Central Ave
Trainers, Gyms
+19095904454
12155 Central Ave, Chino, CA 91710
Ambitious Fitness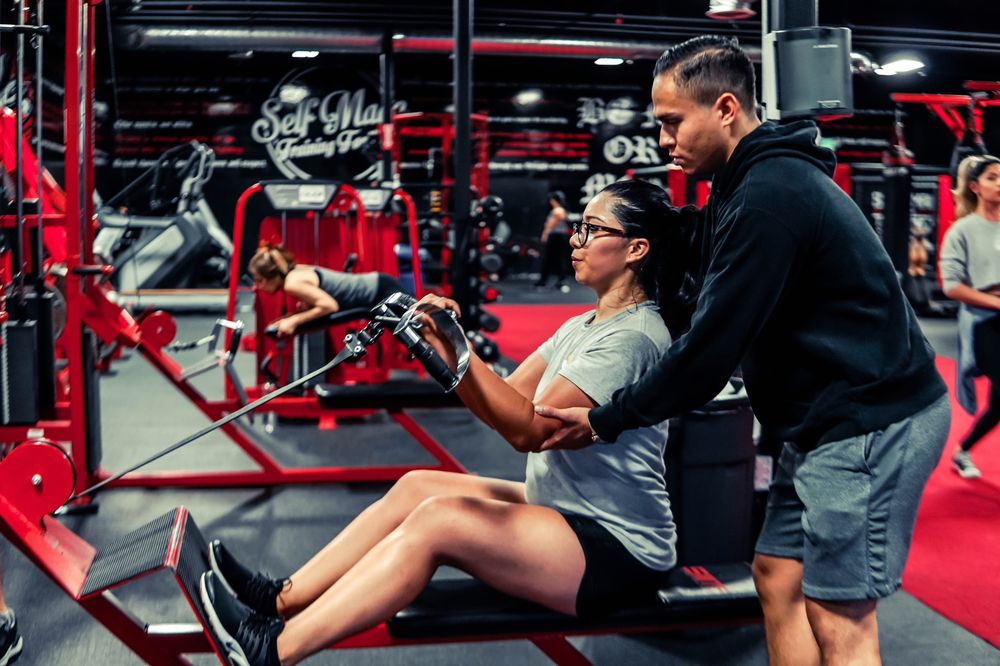 Gyms
+19097301575
2549 Chino Hills Pkwy, Ste A, Chino, CA 91710
One Love Fit Club-Chino
Trainers, Gyms, Kickboxing
+19095292201
5370 Schaefer Ave, Ste H, Chino, CA 91710
Drench Fitness
Gyms, Weight Loss Centers, Trainers
+17143097743
14527 Ramona Ave, Chino, CA 91710
There's a healthy you waiting to get out. Are you all set to feel your best?
Fitness is a lot like a relationship. You have to take it day by day, and you have to put in the effort. That's why it's so essential to have a assistance team– you must never ever do it alone. That's where we come in. We're here for you, whatever you require. Sports, yoga, individual training, pilates, kickboxing– there's no limitation to how great we can make your body feel!
Chino ( CHEE-noh; Spanish for "Curly") is a city in the western end of San Bernardino County, California, United States, with Los Angeles County to its west and Orange County to its south in the Southern California region. Chino is adjacent to Chino Hills, California. Chino's surroundings have long been a center of agriculture and dairy farming, providing milk products in Southern California and much of the southwestern United States. Chino's agricultural history dates back to the Spanish land grant forming Rancho Santa Ana del Chino. The area specialized in fruit orchards, row crops, and dairy.
Active living is a way of life that integrates physical activity into everyday routines, such as walking to the store or biking to work. Active living brings together urban planners, architects, transportation engineers, public health professionals, activists and other professionals to build places that encourage active living and physical activity. One example includes efforts to build sidewalks, crosswalks, pedestrian crossing signals and other ways for children to walk safely to and from school, as seen in the Safe Routes to School program. Recreational opportunities (parks, fitness centres etc.) close to the home or workplace, walking trails and bike lanes for transportation also encourage a more active lifestyle. Active living is a combination of physical activity and recreation activities aimed at the general public to encourage a healthier lifestyle. One of the most important issues our communities face is a staggering increase in the rates of obesity and chronic disease. Active Living offers an opportunity to address these health concerns by helping people have a physically active lifestyle. Communities that support active living gain health benefits, economic advantages and improved quality of life.