Find Chesapeake Gyms and Trainers
Welcome to the Health Club Directory, an online directory and review website for health clubs and personal trainers. With our directory site and reviews we wish to help you discover the very best Chesapeake health club in your area.
Photo by Karolina Grabowska from Pexels
No matter what you want to accomplish, there's a place for you on Chesapeake Fitness Centers and Personal Trainers.
Search through our Chesapeake directory site to discover health clubs, personal trainers, massage therapists, nutritionists, and lots of other related organizations that will help you become healthier.
Onelife Fitness – Greenbrier Gym
Gyms, Trainers, Sports Clubs
+17574241600
600 Jarman Rd, Chesapeake, VA 23320
Fitness 19 Chesapeake
Gyms
+17578197777
1253-A Cedar Rd, Chesapeake, VA 23322
Anytime Fitness
Gyms, Trainers
+17574105522
1501 Cedar Rd, Chesapeake, VA 23322
Universal Fitness
Trainers, Gyms, Boot Camps
+17574102111
1457 Mt Pleasant Rd, Ste 101A, Chesapeake, VA 23322
Planet Fitness
Gyms, Trainers
+17572268543
1620 Sentinel Dr, Chesapeake, VA 23320
The Gym Downtown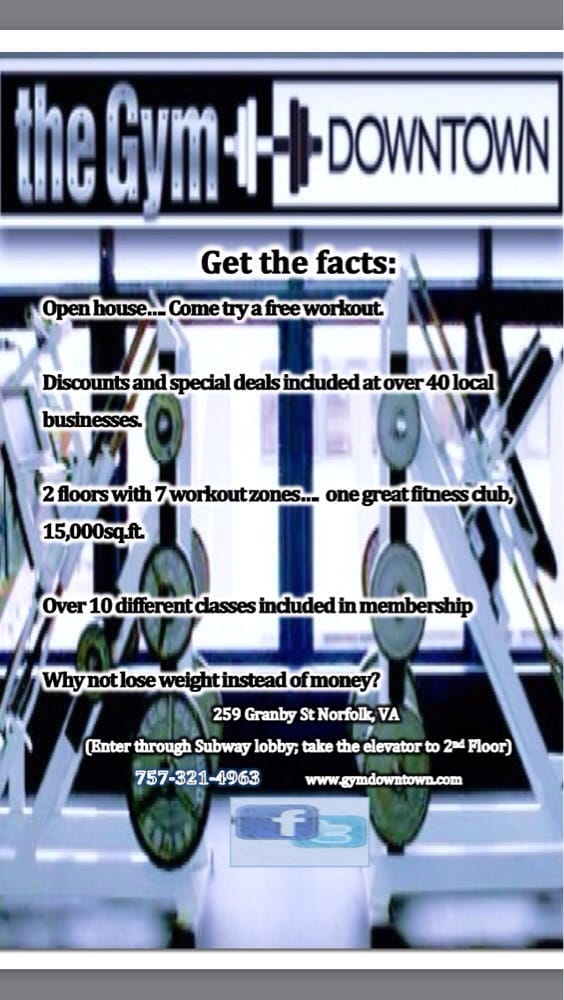 Gyms
+17573214963
259 Granby St, Ste 200, Norfolk, VA 23510
Greenbrier Family YMCA
Gyms, Child Care & Day Care
+17575479622
1033 Greenbrier Pkwy, Chesapeake, VA 23320
Orangetheory Fitness Greenbrier
Gyms, Trainers, Boot Camps
+17573356896
801 Volvo Pkwy, Ste 138, Chesapeake, VA 23320
Lifestyle Health & Fitness Center
Gyms, Yoga, Physical Therapy
+17573126132
800 Battlefield Blvd N, Chesapeake, VA 23320
FIT PROOF
Boot Camps, Trainers, Yoga
+17577454408
638 Independence Pkwy, Ste 240, Chesapeake, VA 23320
By handling some easy modifications, you can enhance your health and feel better.
Physical fitness is a lot like a relationship. You have to take it day by day, and you need to put in the effort. That's why it's so important to have a assistance group– you ought to never do it alone. That's where we come in. We're here for you, whatever you require. Sports, yoga, individual training, pilates, kickboxing– there's no limitation to how great we can make your body feel!
Chesapeake is an independent city in the Commonwealth of Virginia. As of the 2010 census, the population was 222,209; in 2019, the population was estimated to be 244,835, making it the second-most populous city in Virginia.
Bodybuilding is the use of progressive resistance exercise to control and develop one's muscles (muscle building) by muscle hypertrophy for aesthetic purposes. It is distinct from similar activities such as powerlifting because it focuses on physical appearance instead of strength. An individual who engages in this activity is referred to as a bodybuilder. In professional bodybuilding, competitors appear in lineups and perform specified poses (and later individual posing routines) for a panel of judges who rank them based on symmetry, muscularity, size, conditioning, posing, and stage presentation. Bodybuilders prepare for competitions through the elimination of nonessential body fat, enhanced at the last stage by a combination of extracellular dehydration and carbo-loading, to achieve maximum muscular definition and vascularity; they also tan and shave to accentuate the contrast of their skin under the spotlights.