Find Huntington Gyms and Trainers
Welcome to the Health Club Directory, an online directory site and evaluation website for health clubs and personal fitness instructors. With our directory site and reviews we want to help you discover the very best Huntington gym in your area.
Photo by Karolina Grabowska from Pexels
Having a tough time selecting the best gym for you? We've done the legwork by scouting out Huntington's finest fitness facilities. They are all listed here for you to check out, so check it out!
Search through our Huntington directory to discover health clubs, personal fitness instructors, massage therapists, nutritionists, and lots of other related businesses that will help you end up being healthier.
YMCA of Huntington West Virginia
Gyms, Child Care & Day Care
+13045258127
935 10th Ave, Huntington, WV 25701
Marshall Recreation Center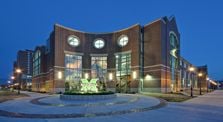 Recreation Centers, Trainers, Swimming Lessons/Schools
+13046964732
402 Thundering Herd Dr, Huntington, WV 25755
CrossFit Thunder
Interval Training Gyms
+13046383997
2516B 5th Ave, Huntington, WV 25703
Brown Dog Yoga
Barre Classes, Yoga, Cycling Classes
+16812043968
210 11th St, Ste 11, Huntington, WV 25701
CrossFit Huntington
Interval Training Gyms
+13043000939
555 Fifth Ave, Ste C, Huntington, WV 25701
Studio 8
Massage Therapy, Tai Chi, Yoga
+13046340949
2001 McCoy Rd, Huntington, WV 25701
Grand Master SH Kang's Tae Kwon Do
Taekwondo
+13045222188
917 9th St, Huntington, WV 25701
Tristate Taekwondo
Taekwondo
+13045290631
2501 Washington Blvd, Huntington, WV 25705
There's a healthy you waiting to go out. Are you ready to feel your finest?
Fitness is a lot like a relationship. You have to take it day by day, and you have to put in the effort. That's why it's so crucial to have a assistance group– you should never ever do it alone. That's where we can be found in. We're here for you, whatever you require. Sports, yoga, personal training, pilates, kickboxing– there's no limitation to how excellent we can make your body feel!
Huntington is a city in Cabell and Wayne counties in the U.S. state of West Virginia. It is the county seat of Cabell County, and the largest city in the Huntington-Ashland, WV-KY-OH Metropolitan Statistical Area, sometimes referred to as the Tri-State Area. A historic and bustling city of commerce and heavy industry, Huntington has benefited from its location on the Ohio River at the mouth of the Guyandotte River. It is home to the Port of Huntington Tri-State, the second-busiest inland port in the United States.
Active living is a way of life that integrates physical activity into everyday routines, such as walking to the store or biking to work. Active living brings together urban planners, architects, transportation engineers, public health professionals, activists and other professionals to build places that encourage active living and physical activity. One example includes efforts to build sidewalks, crosswalks, pedestrian crossing signals and other ways for children to walk safely to and from school, as seen in the Safe Routes to School program. Recreational opportunities (parks, fitness centres etc.) close to the home or workplace, walking trails and bike lanes for transportation also encourage a more active lifestyle. Active living is a combination of physical activity and recreation activities aimed at the general public to encourage a healthier lifestyle. One of the most important issues our communities face is a staggering increase in the rates of obesity and chronic disease. Active Living offers an opportunity to address these health concerns by helping people have a physically active lifestyle. Communities that support active living gain health benefits, economic advantages and improved quality of life.